Kappa Tau Fiesta Bunco February 7
Donna Beckman
2020-01-17T15:07:04-08:00
Beta Chico Spring Luncheon April 4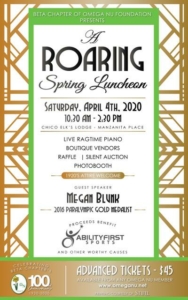 Beta Chico Annual Spring Luncheon April 4, 2020
Please join the ladies of Beta Chico on Saturday, April 4 from 10:30 am – 2:30 pm for our Annual Roaring Spring Luncheon. We will have a delicious luncheon, auction and raffle, boutique, special speaker, and fun! Tickets are $45 each or $360 for a table of 8.
Help us raise money for Ability First Sports and other worthy organizations!
Beta Chapter of Omega Nu is celebrating 100 years of charitable work, 1920 – 2020!  Get your tickets from any Omega nu Beta Chapter member, call Tawny Cleveland at (530) 680-2405, or visit www.omeganu.net
Beta Chico Spring Luncheon April 4
Donna Beckman
2020-01-17T15:02:08-08:00
Omega Nu hosts 30th Annual Ducky Derby Day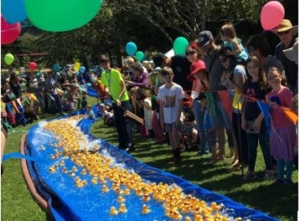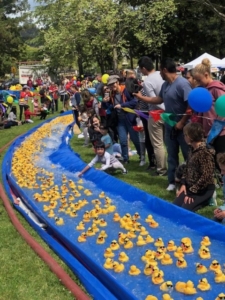 Omega Nu will hold its 30th Annual Ducky Derby and Carnival at Harvey West Park in Santa Cruz on Saturday, April 25 from 10:30 am – 3:30 pm. ADMISSION IS FREE. The ducks race rain or shine!
Over 11,000 rubber ducks will race in heats dwon a 75-yard man-made waterway. If you adopt ducks, you will have a chance to win 1 of over 100 prize packages!
Ducky Derby is a fun day for the entire family. There will be delicious food, carnival games, music, entertainment and, of course, the duck races! Come and enjoy a great day at the park. Please visit our website at duckyderbysantacruz.org
Read More
Santa Cruz Omega Nu Ducky Derby 2020
Donna Beckman
2020-01-17T14:37:29-08:00