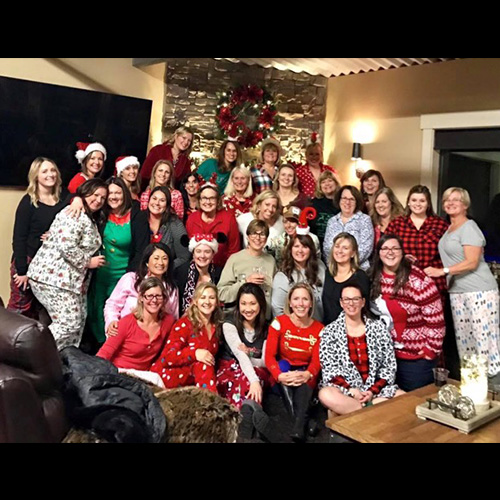 Lodi, CA
omeganulodi@gmail.com
The Alpha Delta chapter of Omega Nu was founded on February 26, 1926 to fill a void in the Lodi community. This young women's group began with nine founding members and was dedicated to charitable work in the community.
Back in the early days, the women of Omega Nu Alpha Delta met frequently and participated in various local community events. They raised money and donated time to help a variety of causes, and bridge, fashions shows, luncheons, home tours and rummage sales were annual events.
In 1934, among the 18 chapters, the Lodi chapter of Omega Nu was second highest in money donated to local charities. In 1940, the first scholarship was awarded to an individual attending a business college.
Lodi is a farming community and wine grapes are the number one crop grown in the community. Every September during grape harvest, the Lodi Grape and Wine Festival takes place and one of its highlights is an exhibition of beautifully hand-crafted grape murals depicting detailed and beautiful scenes. Since its founding, the Lodi chapter of Omega Nu has always created a grape mural, and the tradition continues today.
The Alpha Delta chapter's most renowned endeavor was assisting in the creation of a community center and theater by participating in the restoration efforts of the old Lodi High School, which had suffered a major fire. The Lodi chapter of Omega Nu started the fundraising efforts with the inaugural Field and Fair Day in October 1980. Seven thousand people attended the first Field and Fair Day, and the Lodi chapter of Omega Nu raised $25,000 as the seed money for the community center. In 1998, Alpha Delta hosted the Grand Gala opening of the new community center, named Hutchins Street Square, which is now a cornerstone of the community.
The Lodi chapter of Omega Nu was also instrumental in helping establish Lodi House, a home for battered and abused women and children. Alpha Delta helped decorate and organize the home and hosted its grand opening. And for its first few years, Alpha Delta sponsored an annual event to help fund Lodi House and the organization continues to support Lodi House today.
Omega Nu Alpha Delta chapter currently supports Lodi charities including: Boys and Girls Club, Grace and Mercy, Lodi Adult Day Care, Lodi High/Tokay High Sober Grad Night, Lodi House, Lodi Pregnancy Resource Center, Lodi Unified Adaptive Physical Education, LOEL Center, Salvation Army Culinary Program, World of Wonders Science Museum and many more.