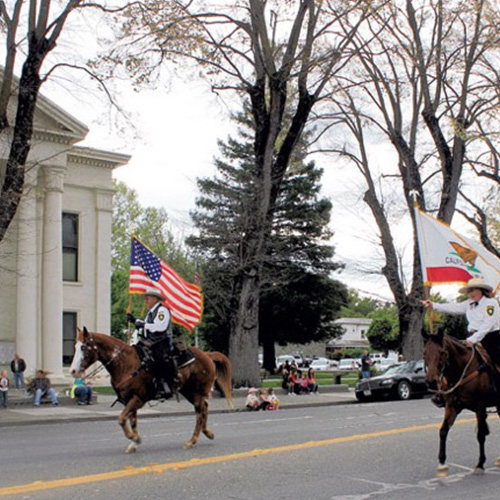 Colusa, CA
omeganualphakappa@gmail.com
The Alpha Kappa Chapter of Omega Nu became a Charter Member in Richardson's Springs on April 16, 1939 by its sponsor Beta Chapter of Chico. The Alpha Kappa Chapter is comprised of women from the various cities in Colusa County, and we are proud that many of our members are Second Generation Omega Nu, like their mothers before them. We are a sisterhood that focuses on charity for our community and raising funds to provide scholarships to students graduating from Colusa County Schools. We are very fortunate to live in a community that enthusiastically attends and supports our fundraising events, as the majority of the funds we raise go toward the scholarship fund.
We have had many different fundraising events over the years, as with new members come new, fresh ideas. We have hosted harvest dances, barn sales, Christmas tree sales, Valentine's Day dances and family picnics. One of the longest running fundraisers was the Silver Tea, which started in the 1940's and continued into the 1980's. The funds raised from the Tea were donated to the American Cancer Society. Another long running fundraiser was our Dinner Dance Project. Some of our previous themes have been Wild West, Barn Dance, Mardi Gras, St. Patty's Day, Big Fat Italian Dinner and Pirates of the Caribbean. Our most recent Dinner Dance theme was a Halloween event, 'Til Death Do Us Party, where members dressed as Day of the Dead brides. Prior to the Colusa Movie Theatre Closing, we hosted a movie night where we showed classic movies such as An Affair to Remember, Caddy Shack, A League of Their Own, Paint Your Wagon, Grease and Saturday Night Fever to name a few. In 2010, as an alternative to movie night, we hosted our first golf tournament. The event was an overwhelming success. On the morning of the golf tournament we host a brunch for our Omega Nu Alumni, while the golf foursomes check in and enjoy breakfast burritos and a Bloody Mary bar. We also treat our golfers to lunch on the green, various hole challenges, raffles and a dinner following the event. The golf tournament is held every other year, and on the opposite year we appear as Guest Bartenders and Servers at a local restaurant in Colusa, Rocco's. We call this event Tips for Scholarships.
In addition to academic scholarships, we also help our community by providing medical, dental and vision needs, clothing items and monetary contributions. During the holiday season, we contribute to the Yuletide Food Basket drive, donate to Toys for Tots, and in the past participated in a heart warming project we called Christmas Families. Omega Nu members adopted a family from each town in our County to shower with gifts at Christmas Time. After collecting wish lists from the families in need, we shopped for gifts that included new school clothing, shoes, toys, electronics and personal care items. We even gave the families the option of either delivering the gifts completely wrapped, or providing all of the supplies to wrap the gifts for their children themselves. We also make monetary contributions to youth programs such as donating to local Little League organizations, sponsoring 4-H members to attend camp, sponsoring High School Senior projects, Eagle Scout projects, and helping 6th grade classes across the county to attend Shady Creek, a one week nature camp. Our chapter is also known for our homemade desserts, as we come together to provide baked goods for the funeral receptions of Omega Nu Alumni as well as loved ones of Omega Nu members. Essentially, we strive to help out our community where we can, when we can; in the true spirit of sorority.